I know server is brand-new and there will be some bugs, so here I am to help point some out!

-Add an npc at farming teleport with all seeds and tools used for farming. Include vials of water in the shop.
-Remove robin hood hat and rangers boots, add them to clue scroll rewards
-Fix fletching (as heard from another player)
-Knives dont seem to work with ava's accumulator
-Slayer points don't add up correctly
-Make slayer tasks harder with higher levels! For example at 83 slayer I shouldn't be getting lesser demons still

-Fix farming
-Agility: last obstacle doesn't seem to give bonus exp at gnome course.
-Nerf crafting exp by a little
-Add a skilling zone maybe?
-Fix bank tabs
-Jad cave brings you to the fight pits minigame, not jad itself
-Fix xp displayer thing
-Fix required levels for black dragonhide
-Enable Wilderness Agility Course
-Add skeletal wyverns ingame


I am planning to keep this thread updated. Nice server so far!
Last edited by Brancakes on Sun Aug 02, 2015 4:51 am; edited 3 times in total



Posts

: 6


Join date

: 2015-07-31



Hey guys.
I'd like to report something that doesn't seem right to me, in other words the black dragonhide chaps that can be worn at level 1 ranged.
Here is a picture.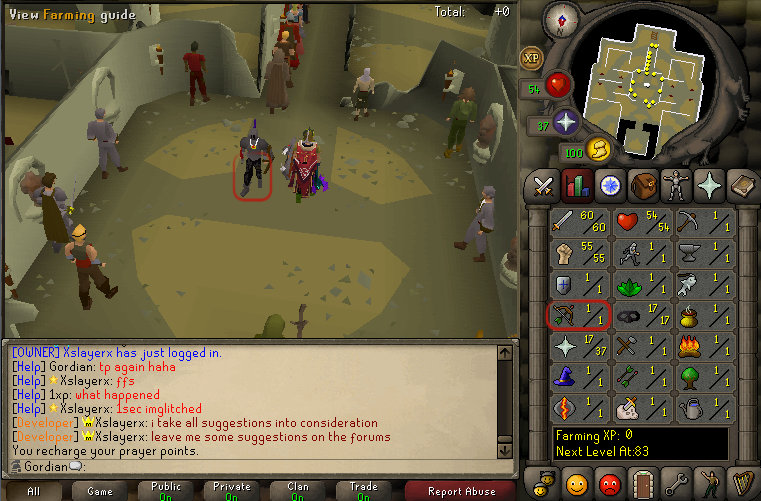 Have a nice day.

Gordian' / 1xp'PS. Forgot to mention the xp displayer does not work. I know everyone is probably aware of it, but it's always better to point it out. :3 <3 Kiss. Love.

Last edited by Gordian on Fri Jul 31, 2015 7:45 pm; edited 1 time in total (Reason for editing : +1 bug.)



Posts

: 13


Join date

: 2015-07-31



Hey.

The server being down for the whole day is a serious issue... You guys should program an automatic server restart every... x hours... I'd suggest 3/6 hours.

Regards,

Gordian'



Posts

: 13


Join date

: 2015-07-31



Thanks for feedback Gordian



Posts

: 6


Join date

: 2015-07-31



When The Server Was Down Its Was An Issue With The VPS, Nothing With The Server, And Thanks For All The Feedback, Will Send Sugestions To Developer

~Mod Deo
Admin




Posts

: 25


Join date

: 2015-07-28





Similar topics
---
Permissions in this forum:
You
cannot
reply to topics in this forum